The Weber Smokey Mountain (WSM) Cooker is a work of art. I mean, the thing looks like R2D2 but out of him you can get such delicious and succulent meats! I've had the Weber Smokey Mountain Cooker for some time now so I have the art of cooking with it down to a science pretty much. So if you're looking for tips on how to use your new R2D2 then you've definitely landed in the right spot. Other people call it a bullet, but I'm sticking to my guns. On with the show!
Prepare your meat and wood before doing anything with your WSM
I don't know why, but some people get so overexcited at the thought of cooking anything that they forget to actually prepare what they are cooking with first! Maybe they just really like fire or something, I don't know. Anyway, when I'm cooking, I always, always make sure that I season my meats (or marinate, whatever) and let sit, as well as prepare my wood for smoking before I even think about looking at the Weber. I mean, I don't want to get everything fired up and then realise I'm out of wood or something. That completely defeats the purpose!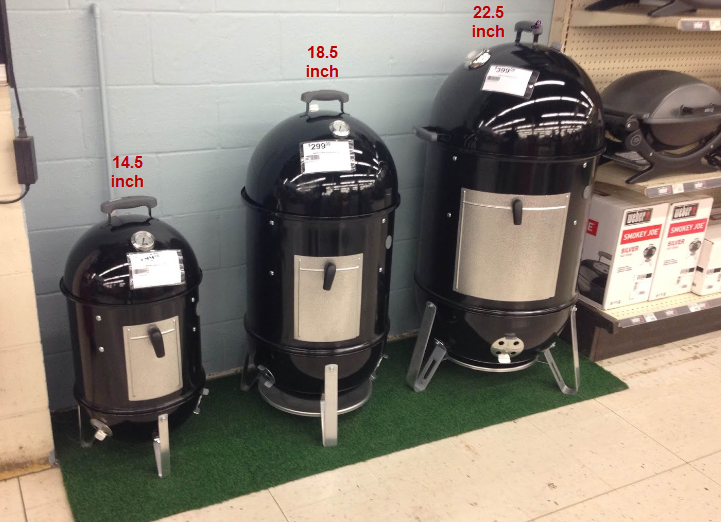 Use a Weber chimney starter
One of the best accessories that you can get for the WSM is a Weber chimney starter. This makes it so much easier to get your coals going faster, plus you can get enough going to do all your cooking. It saves time and effort, which in my book makes it well worth the spend. Usually when you're using the chimney starter, the coals will take a little while to light – probably between 10 and 20 minutes. You let the coals cook in the chimney starter until they're ready to put in the WSM charcoal grate. You'll be able to tell when they're ready because you'll see flames at the top of the coals and they'll be getting that grey ash on them.
Keeping an eye on the temperature
Your WSM is built for long, slow cooking, infusing those smoky flavours into your meats and having them fall apart super succulently. But that doesn't mean that you can just whack your meat onto your smoker and walk away, leaving it for hours on end. No way! You need to take care of that thing! Thankfully, the WSM has a temperature gauge on top so you can easily keep on the temp to see if it is running too hot or too cold.
If it's too hot, you will need to think about removing some of the fuel from the smoker to cool it down a bit. It's also best to stop opening it. Opening it, unlike an oven where the heat escapes, means that your coals get a little too excited and heat up. If it's too cold, you might need to add more fuel to the fire to get things cranking a little bit more. Another suggestion is to change the type of fuel – there are different types of coals available, and different brands, too. Each is slightly different from the other so try experimenting to see what will work best for you.
Using your smoker will take some time to get just right. Many people will have 10 dud runs before finally getting it right. A good way for this to be a repeatable process is to keep a diary of what you did each time. That way you can easily skim read and check out which things are working and which things definitely are not. Happy smoking everyone and good luck!